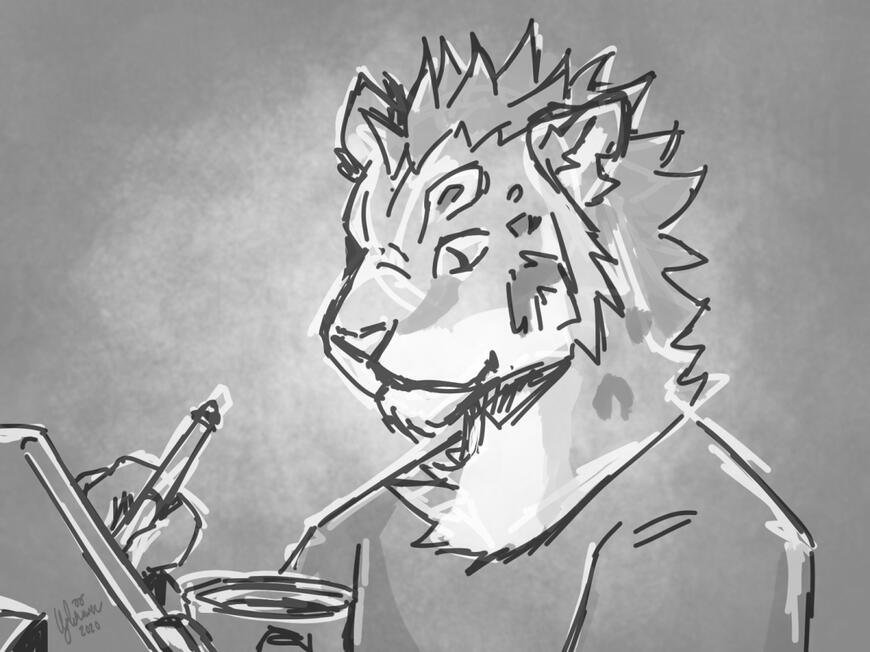 Owen
Uglewen/Owlwen - Furry Artist - Animator
Lion/Snep - He/Him
---
---
Eidride and Cal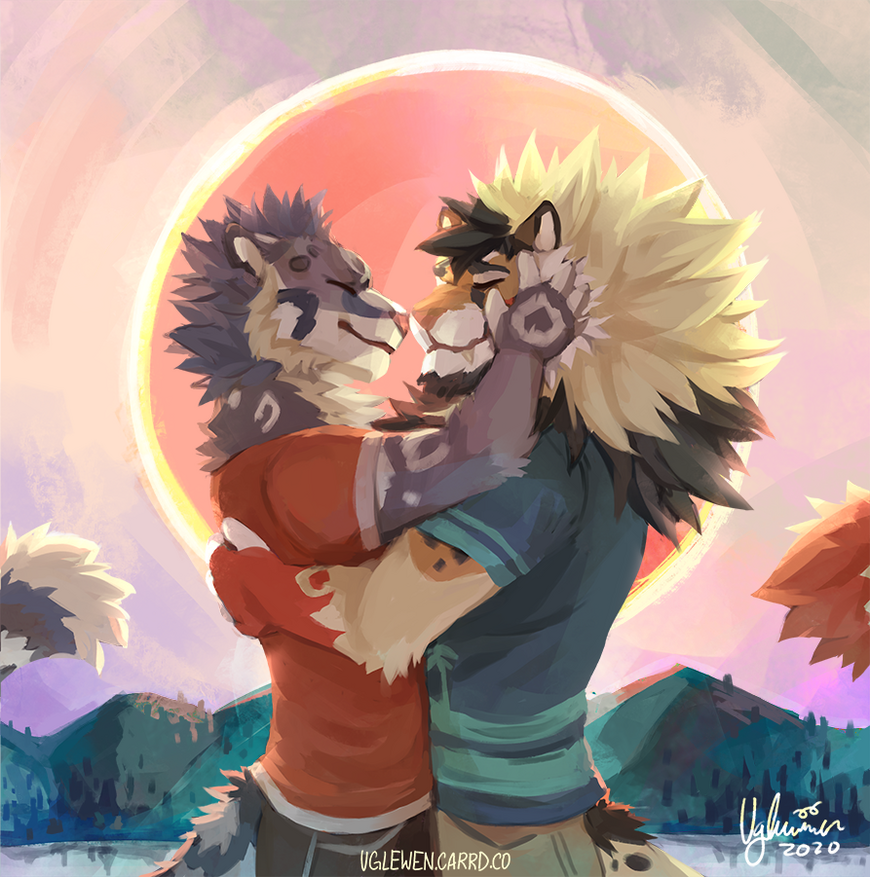 Engaged to Eidride since 06-09-2019
---
---
Owen's Art Commissions
Commission Process and Information
- I will announce my commission openings on Twitter and Furaffinity, and provide a link to a request form. After the form is filled out I will contact you for confirmation of your piece. I will leave the form open until all slots are filled, and then it will be closed until I open a new queue.
- Payment will be required upfront! If you are not yet able to pay and have been trying to commission me, you may inquire about reserving a spot for my next opening!
- Payment is in USD via Paypal Invoice. I will invoice you once I have contacted you and confirmed your slot!
- By standard, I will send an approval sketch for the initial draft and for the coloring. Full Illustrations will start with 2 to 4 thumbnails for you to choose from before I begin the main sketch. If you would like adjustments, request them in the appropriate stage or there may be extra fees. Additional WIPs may be provided upon your request.
- Client will receive 4 final files; two full resolution PNG files, one with and one without a watermark, one minimized resolution with a watermark for online sharing, and a GIF showcasing the process of the work.
- I will try to work on a first come first serve basis. However, work order may sometimes vary.
- ! Please note that due dates listed on my Trello are approximates based on my personal goal, and not a guarantee!
- By asking for a commission from me, you are agreeing to my terms of service!
---
Commission Prices
Prices are subject to change over time
Painted Headshots
[not available]
---
Portrait Commissions
[not available]
---
Full Illustrations
[not available]
---
---
Terms of Service
My T.O.S is subject to change without notice. Always check it before requesting a commission.
- I have the right to reject a commission for any reason I find necessary.Client use:
- Personal use only. You may repost or share the watermarked version on your personal platforms as long as you credit me the artist.
- Any kind personal icons, header, banner, wallpaper, etc!
- You may have the work printed as a poster, sticker or other object for your own enjoyment, but never reproduced or sold for profit.
- You may not use the artwork for any commercial purposes.Artist use:
- I reserve the right to share commissions and related WIPs and progress on any of my platforms, for any purpose, including those for promotions, my portfolio, and other commercial uses.
- I also reserve the right to reproduce the piece for profit in the form of digital and tangible goods. (Examples of likely use: including the piece in an art book, promo, business card, calendar, etc.) Client will be notified beforehand if their piece is selected for such use and may negotiate the use.
- I reserve the right to recycle any rejected and unused WIPs and sketches for any purpose including personal use, resale as YCH, and use in creation of other commissions. Refunds:
- If the artist cancels your commission for personal reasons at any stage, you are entitled to a full refund (ex: too overwhelmed with work or personal life).
- The client may cancel the commission for a full refund if the commission has not been worked on, or started at all for six months.
- Refunds will not be issued at any stage if the artist cancels due to inappropriate behavior from the client (ex: harassment, unwanted advances, stalking, threats, etc.)
---
Contact
I am not usually very chatty with people I don't know, so please keep it to business or concerns only, thank you.
Art Partners
---